Fans anxious to see their new signees hence sold out of CBL tickets
"THIS IS another milestone for us at Carling Black Label. It speaks volumes about the initiative, and demonstrates that the fans are hungry for football action during the recess.
The Carling Black Label Ch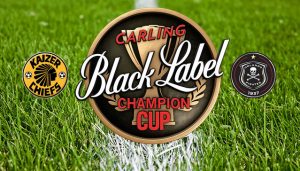 ampion Cup comes at the right time whereby fans are anxious to see their new signees in action and also witness their team's pre-season preparations.  We would like to thank our Champion Coaches for their continued engagement and support of this unique initiative," says Carling Black Label Brand Director, Samori Gambrah, following news that the tickets have been sold out.

Entering its seventh-edition the CBL featuring two Soweto teams Kaizer Chiefs and Orlando Pirates, at FNB Stadium on July 27, shows the rivalry between the club's fans still rages on.

According to Stadium Management SA's CE Jacques Grobbelaar, 79000 tickets were sold out 12 days ahead of the game, but the hospitality tickets are still available.

Breakdown of tickets: hospitality 4436; stands 71000 and complimentary 7200.

Although tickets are sold out, fans still have an opportunity to influence the outcome of the day and the starting line-up, through the power of selection in their hands.

Consumers can do this by purchasing a Carling Black Label beer and dialling *120*660*. And then enter their unique code found on the underside of the bottle cap and the # sign (with no spaces in between) and they can then choose the formation and change their starting line-up.

Voting is free and will be close at midnight on 25 July 2017.

"We knew that partnering with the two teams in this campaign will transcend football. I cannot think of a better way to preview the upcoming season other than with a classic encounter between Kaizer Chiefs and their arch rivals Orlando Pirates in a stadium packed to capacity," says Gambrah.

Fans have been urged to come early to avoid unnecessary traffic congestion.

Sourced from the Sowetolifemag website.