FOLLOWING weeks of speculations new vehicle sponsor has been unveiled for the Gold and Black!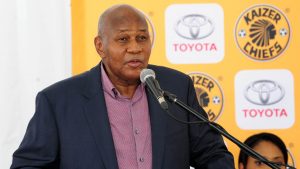 Toyota SA has replaced Nissan as the vehicle sponsor for the glamour side Kaizer Chiefs.
Announced on Wednesday at the club's head quarters Naturena, the three-year deal means AmaKhozi will be entitled to 20 vehicles from a fleet of  hatchbacks, sedans, SUV's, bakkies to panel vans and minibuses, although no actual value of the deal was disclosed.
Supremo and Kaizer Chiefs executive chairman, Kaizer "Chincha Guluva" Motaung said: "Toyota is one of the biggest motor vehicle manufacturers in the world and their brand is synonymous with quality and reliability across the globe. These attributes resonate deeply with Kaizer Chiefs, as we are a Club that aspires to the same ideals and high standards. We are delighted to establish a relationship with them and look forward to a prosperous and mutually beneficial partnership."
In attendance were players' who the previous night walloped Free State Stars 3-1 in the PSL encounter.
Chief Executive Officer and President of Toyota South Africa, Andrew Kirby says that the Toyota brand is deeply rooted in South African sport: "Whether it is rugby, cycling, motorsport and now soccer – we are behind South African sport wholeheartedly. The values of perseverance, leadership and endurance are those that are synonymous with the Toyota brand and its history in South Africa.
We're looking forward to driving the Kaizer Chiefs team for the next three years. Remember that Toyota is behind you every step of the way both on the field and off it. We are excited about joining the Amakhosi fans in supporting their team and hope to grow this partnership over time."
The deal also affords Amakhosi supporters 250 free and secure parking bays for Toyota vehicle drivers attending the teams' home matches at the FNB stadium.
This area will be known as the Toyota Zone and supporters will be allocated parking on a first-come, first-serve basis.
Toyota also sponsors Free State Cheetahs rugby team.
Following the announcement, twitter was ablaze with Chiefs supporters raving about the deal and some declaring they will get a new Toyota car as their first.
This article was sourced from www.sowetolifemag.co.za