---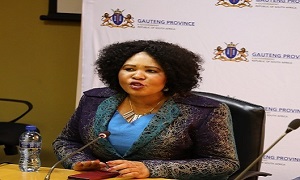 Gauteng MEC of Finance Nomantu Nkomo-Ralehoko has expressed appreciation to the business community in Emfuleni Local Municipality for working closely with government to resolve service delivery issues faced by the municipality.
 "Our meeting today was fruitful and qualitative in discussing the challenges faced by the private sector in the area and the priorities identified by both parties as areas of cooperation," MEC Nkomo-Ralehoko said.  
These included concerns raised pertaining to the electricity billing system, water supply, sanitation and other services that require urgent attention. 
 During the meeting, the MEC informed the Golden Triangle Chamber of Commerce that she will soon visit Emfuleni to attend to the smart meter challenges and new electricity tariffs. The visit will also serve as a platform to interact with business and other stakeholders regarding the implementation of the adopted Financial Recovery Plan. 

 The MEC confirmed the support received from Premier David Makhura and all National Government departments that are part of the Emfuleni Intervention Program. Government has recognised progress made to date and remains confident that the support to the municipality will yield positive results.  "The relationship built between the Executive Mayor of Emfuleni and the private sector is highly appreciated. We encourage a more comprehensive and transparent approach in enhancing this relationship to confront all relevant issues faced by the municipality," she said. ​
SOURCED FROM THE GAUTENG TREASURY WEBSITE.