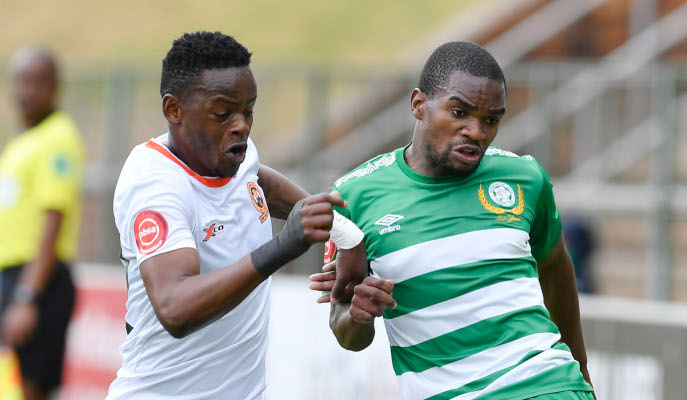 Bloemfontein Celtic and Polokwane City played out a goalless stalemate in their early afternoon Absa Premiership match at Tuks Stadium on Sunday.
The result sees Phunya Sele Sele rise to eighth place (level on points with Highlands Park and Stellenbosch, but ranked ahead thanks to a superior goal difference), while Rise and Shine remain bottom of the log.
The first quarter of the match, up to the cooling break, saw no genuine scoring chances created at either end, though there was an interesting clash of styles.
While Celtic were prepared to be patient in possession and build from the back with intelligent passing patterns, City were more direct in their attack, looking to get the ball forward as fast as possible and put striker Charlton Mashumba into the space behind the hosts' defence.
Phunya Sele Sele dialled up the pressure after the first-half cooling break and almost claimed the lead in the 35th minute, with Justice Chabalala rising highest to meet a corner kick only to see his powerful header rebound off the crossbar.
The score remained 0-0 up to the halftime interval, while both teams made a change at the start of the second stanza: Celtic shuffled their pack in attack by replacing Sera Motebang with Victor Letsoalo, while Polokwane were more aggressive in taking out centre-back Denis Chembezi and putting Salulani Phiri into midfield.
The Limpopo side found more attacking rhythm after the changes and should have claimed the lead just after the hour mark when Phiri played a fine cross from the right to pick out Mashumba, but the striker put his header high over the target.
That chance sparked a sustained spell of pressure from Rise and Shine, who further enhanced their attack with the introductions of Jabu Maluleke and Puleng Tlolane, but Celtic were able to weather the storm and reassert some control as the second half wore on.
In the end, both outfits were forced to settle for a goalless stalemate and a point apiece. The teams will return to action on the evening of Wednesday 2 September, with Celtic away to Golden Arrows at Ellis Park and City at home to Mamelodi Sundowns at Loftus Stadium.
Bloemfontein Celtic 0Polokwane City 0
Celtic: Chaine, Ngobeni, Mahashe, Chabalala (De Jongh 85'), Letlabika, Baloyi, Mashikinya (Maema 62' [Tchilimbou 86']), Fikizolo, Mabena, Motebang (Letsoalo 46'), Luthuli
Polokwane: Chigova, Nkili, Chembezi (Phiri 46'), Motloung, Buthelezi, Mvelase, Manaka, Nene (Semenya 89'), Mahlasela (Tlolane 65'), Hlubi (J. Maluleke 65'), Mashumba (Anas 89')© Backpage TXT.
SOURCED FROM THE PSL WEBSITE.