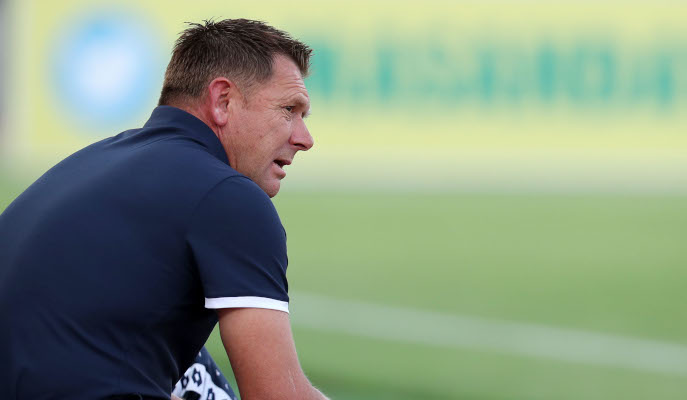 A few months ago, Eric Tinkler was hired to be a rescue man at Maritzburg United with his mandate limited to keeping the troubled club in topflight football at the end of 2018/19 season.
But now he has found new dreams!
Tinkler arrived when all had written Maritzburg United off in what was becoming a highly contested relegation battle. However, the former Bafana Bafana hard man turned the fortunes around and led the Team of Choice to calmer waters.
Fast forward to a few months later, Tinkler is not only thinking merely about the survival of the club but about leading them to uncharted territory as they contest their first ever Telkom Knockout final against Mamelodi Sundowns at Moses Mabhida Stadium in Durban on Saturday evening.
Kick-off is at 18h00.
Tinkler is aware that, just like a few months when he took over what many thought was mission impossible in saving Maritzburg United from the drop, his players will once again have their backs against the wall with the odds stuck in favour of their much-fancied opponents Sundowns.
But going against the tide is something his Maritzburg United players are familiar with. A fortnight ago, they entered the semi-finals in Mbombela Stadium as underdogs against on-form Kaizer Chiefs. Not only did they come out victorious, but they boxed Chiefs out of the pitch. It was vintage Tinkler football: suffocate the opponent with intensity, don't give them time to breath, catch them on quick counters and look after the last line (defence).
Against Sundowns that strategy – as well executed as it was against Chiefs – might have limitations. Sundowns are a team that knows how to adapt. Coach Pitso Mosimane has found a balance between shoe-shine and piano and pragmatism.
Much has been said about the subtle rivalry between Tinkler and Sundowns mentor Mosimane. But knowing the characters of both men – two born winners – their rivalry has less to do with personal feelings towards each other but their fanaticism and inability to settle for second best.
"My players know me," Tinkler recently said, "I love to win."
The hangover of that Chiefs victory in the semis might still linger as Maritzburg United approaches Saturday's Telkom Knockout final. The effects can either breed confidence or seeds of destructions. Tinkler is hoping for the former.
"You try and remind them (players), I've reminded them since the game ended against Chiefs, I said there's no time for celebrations, we celebrate when we win the (Telkom Knockout) cup. We haven't won anything so don't start celebrating now you know. So you make them aware before and after the Chiefs game and we are hoping it's not sitting in their minds. Whether it is or not I can't tell you," said Tinkler.
SOURCED FROM THE PSL WEBSITE.